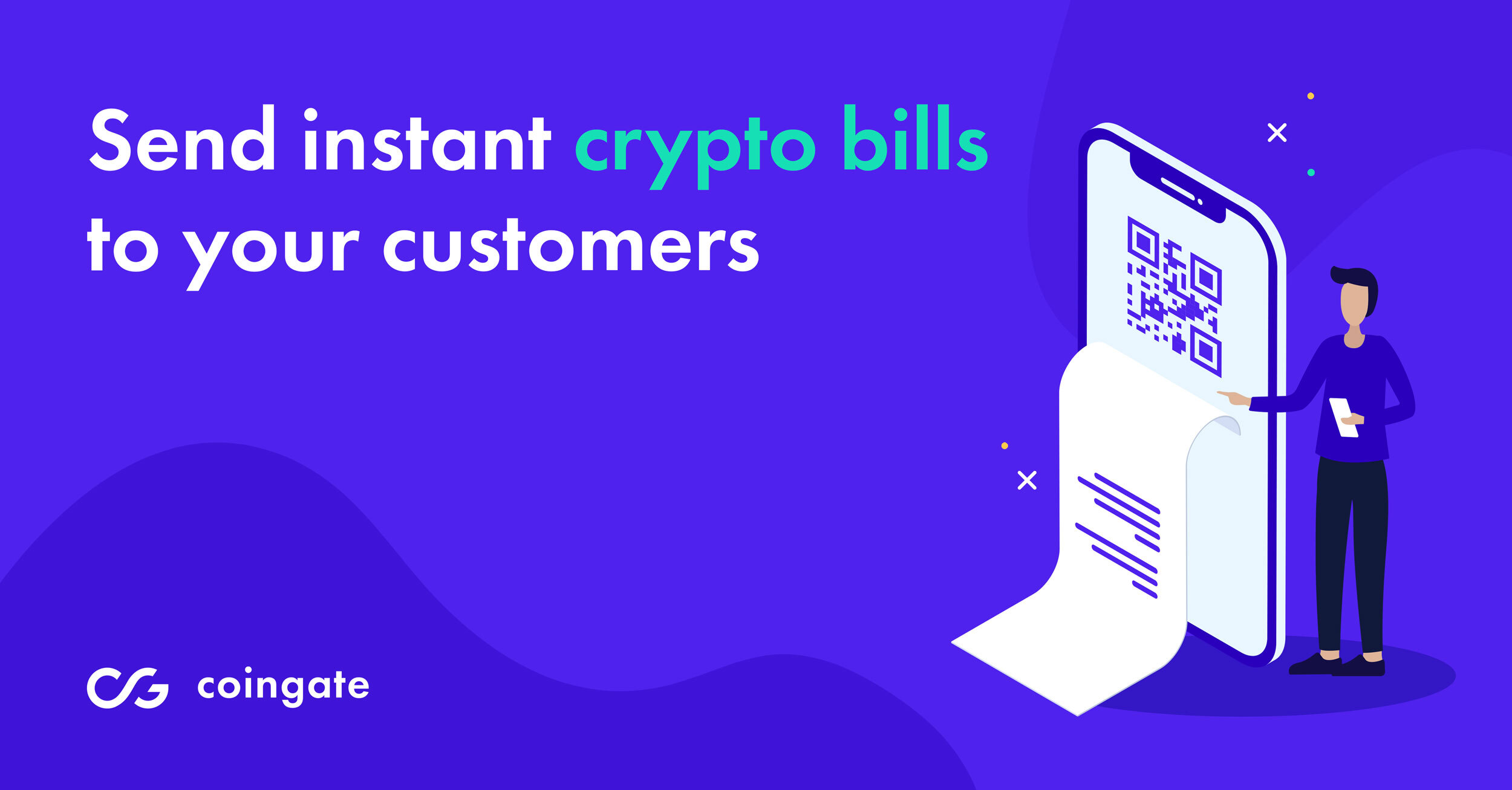 Businesses, not-for-profit and freelancers now have the option of receiving crypto payments through the billing service.
Billing allows any business account verified on CoinGate to create and send instant re-usable cryptocurrency bills via email or link with a QR code.
The solution is available for use from the account dashboard without any coding efforts whatsoever.
You can also set a schedule to send bills cyclically and use API integration (optional). Learn how.
As with all others payment integration tools, instant billing allows payments to be received in over 50 cryptocurrencies with a feature to convert revenue into other coins or Euros / US dollars.
This service also supports Lightning Network payments for Bitcoin and Litecoin, account permission and more.
The instant billing solution
The ability to send instant one-time crypto invoices via email or link can be feasible in many different cases.
Firstly, it's very simple– once logged into a business account, you can start sending crypto bills immediately without spending any extra time on setup or coding. All payment details, contacts, as well as paid and unpaid bills, can be tracked on the same dashboard.
So, instead of setting up an entire payment method for one or a few clients to pay with crypto, generating a single invoice to request the payment is a much more convenient method of settling issues quickly and without any unexplained costs.
Simply share a link to it, or let CoinGate submit the bill via email for you. It is then up to you to decide whether you want to keep the coin as it is, convert it to fiat currency or other coins.
How to create and send instant email bills
1. Log in to your CoinGate business account
Please note that you must be verified to use this service. Pass the business validation or apply for a trial account.
2. Find the "New Instant Bill" option in the menu
When clicked, a new window will appear where you can start building your first crypto bill.
3. Select or add a new payer
Each time you add a new payer, it stays in your contact list. To add a fist link, click the "Add new" button, then fill in the required information.
When adding a new payer, the only mandatory field is the payer's email address, while everything else is optional to provide. You can also choose whether your bill is intended for a regular organization or person.
In the menu section, payers are referred to as "Subscribers".
4. Select or add payment details
First, name your bill so you can differentiate it from others. Also, choose whether you want to send this bill by email or link with a QR code, enter the amount and price currency (aka the currency in which the total is shown).
Here are the most basic bill details you can do; however, you can click on the "More Details" button for more options:
Set the "accept currency" settings. It decides which currency you will receive (Euros and US dollars included) once the invoice is paid with any of the 50 cryptocurrencies it supports.

Enter a URL to which the API phone calls will be sent in case you want to connect directly to your website system.

Enable paid order notifications and add payment ID.
After that, be ready to name the price of goods and quantity. Feel free to add as many items as you like by clicking "Add items".
5. Click the "Create bill" button
In the menu section, the saved payment details are referred to as "Details". When the bill is sent, you can see the payment status under the "Payments" menu section.
Navigate to "Trader" -> "Billing" to find all menu sections dedicated to billing service.
For more detailed information on this payment option and its technical aspects, please refer to billing API overview.
Stimulating recurring payments
There is one other menu section called "Subscriptions" ("Billing" → "Subscriptions"). This is where you can set payment schedules for your new and existing bills.

This option is perfect for subscription-based business models. Learn more.
Want to jump right into it? Sign up at CoinGate to get started, or log in to your account, access the business environment and go to "Trader" → "Billing" menu section.
Here are more articles from CoinGate that may be relevant to you: