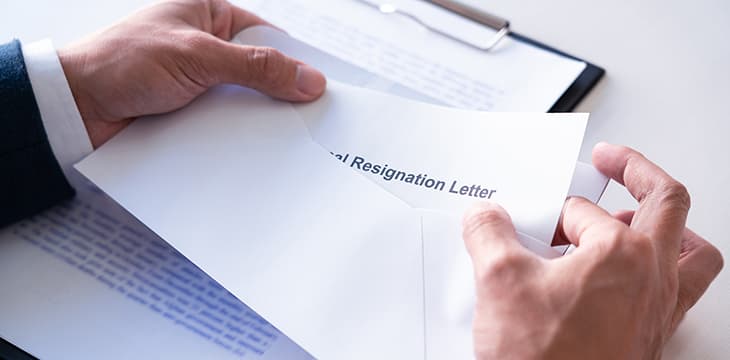 The CEO of the US BTC block award miner has left his position at the company, according to the company. Alex Leigl, CEO of Layer1 Technologies, has been embroiled in a legal battle with the company's founders, resulting in a settlement that sees him leave the company he has led since 2018.
Layer1 Technologies seemed to be on the verge of becoming one of the largest block reward miners in the United States, raising $ 50 million in Series A funding at a $ 200 million valuation.
In a press release, Layer1 announced that Leigl has finally stepped down as the CEO. Jakov Dolic will now rejoin the company as CEO and chairman. Dolic previously served as president of Layer1 before launching a legal battle against his fellow executives. He alleged that the founders were pushing him out of the company despite investing millions of dollars to grow the company.
Despite fighting each other in court for months on end, Dolic and Leigl have apparently released a joint statement expressing optimism about the company's future. They believe that Layer1 still has a lot of room for growth and expansion and is well placed to dominate block prize mining in the United States.
They stated, "Tier1 has a strong foundation for future growth, including 100MW capacity expansion mining operations, which the company will expand, and proprietary inclusive solutions that will continue to drive Layer1 operations."
The German-born Leigl has become one of the rising stars of digital currency in recent years. He moved to the United States to join Stanford University where he studied Applied Mathematics and Philosophy. Forbes featured him in his "30 Under 30 Blockchain Leaders" list in early December.
Tier1 is the latest BTC block award mining company that has seen intense scrutiny between the founders. Bitmain, the largest BTC mining hardware maker, has seen its founders fight for control of the company for several months. In the latest time, Jihan Wu allegedly won the upper hand in his battle for control with fellow registrar Micree Zhan.
See also: Jerry Chan's TAAL presentation at CoinGeek Live on The Shift from Bitcoin "Miners" to "Transaction Processors"
New to Bitcoin? Check out CoinGeek's Bitcoin for Beginners section, the ultimate resource guide to learn more about Bitcoin – as originally envisioned by Satoshi Nakamoto – and blockchain.