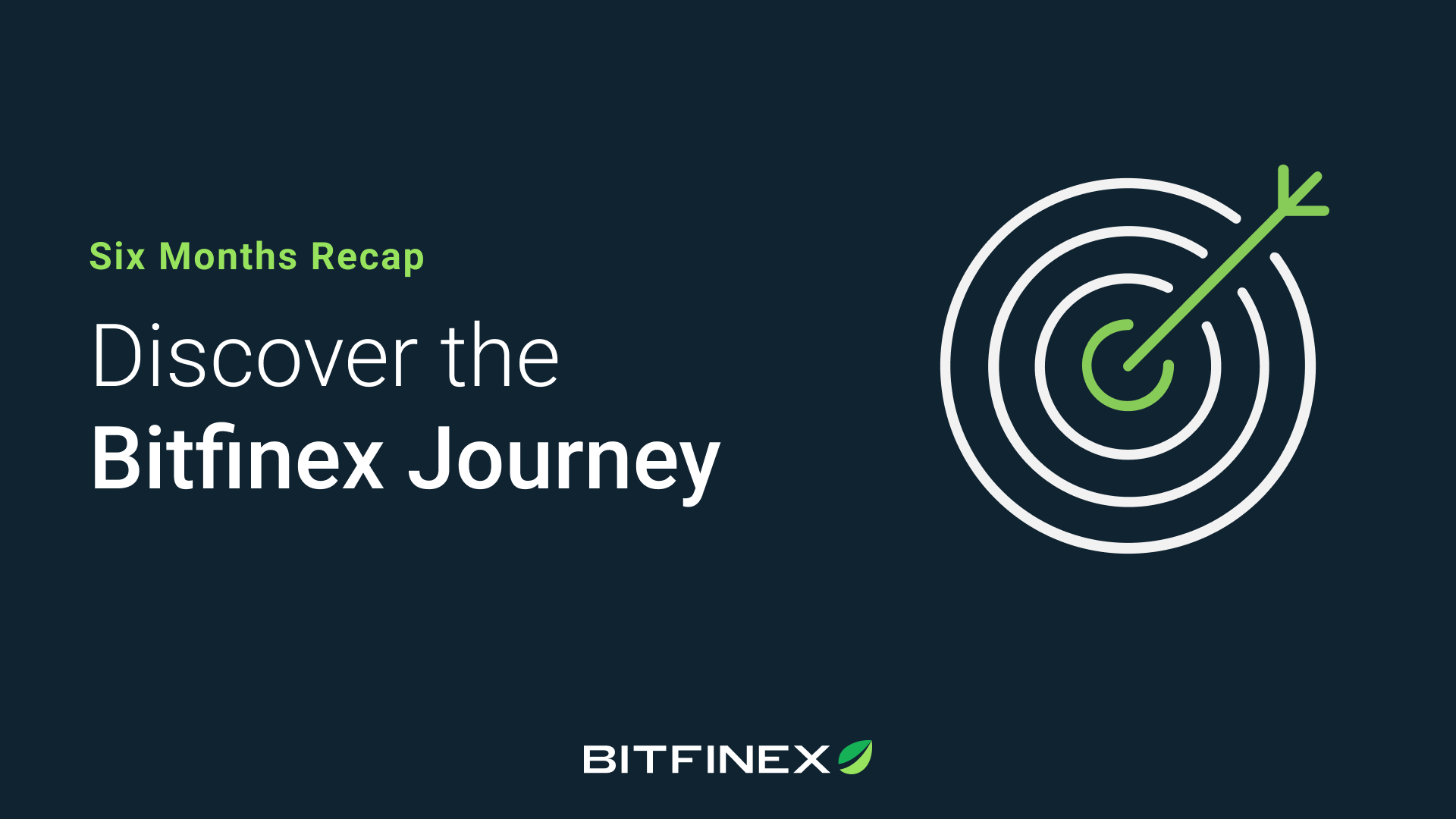 How much can be achieved in six months? In Bitfinex, the answer is "LOTS!"

04 August 2020

in Publications

"It's not what you look at; that's what you see. "- Henry David Thoreau

2020 has been a challenging year for all of us. The world economy is spiraling downwards as governments struggle, industries are shrinking, and many businesses are collapsing because of the global pandemic and humanitarian crisis.

But, when people see the hole, we see the whole donut. What everyone considers controversies, Bitfinex considers it an opportunity. The chaos has challenged many people on what they have believed throughout, which we believe is a perfect opportunity to introduce them to the many possibilities of cryptocurrency.

Despite the ongoing crisis, Bitfinex has remained focused on the mission to build a transparent and scalable infrastructure of innovative financial products that is accessible to everyone, regardless of their level of expertise or experience. In line with our mission, we have been working hard to provide products and features for the benefit of our users, the cryptocurrency community at large, and those who are not yet familiar with the cryptocurrency industry, as mentioned above.

Here are the highlights of what we've done so far this year:
Top 10 updates you can't miss
1-credit and debit card payment support
Bitfinex introduced new payment options – paying credit and debit cards – giving access to cryptocurrency to a wider audience.
2-Sub-accounts
Different trading strategies can be easily trialled with the Bitfinex sub-account feature.
3-Staking Program
We introduced our staking program and made our first staking rewards worth $ 100K within less than a month after launch. We also published educational content to help our community get to know our new service better.
4-Bitfinex pulse
We launched our own news aggregator and social platform to enhance the social trading activity of crypto traders.
5-paper trading
In response to customer demand, Bitfinex launched the Paper Trading feature which provides consumers with opportunities to learn and upgrade their trading skills and strategies in a safe environment.
6-ZERO fees announced for USDT / USD pair
We introduced a zero trading fee promotion for the Tether / US Dollar (USDt / USD) pair to reward our active and loyal customers.
7-The Honey Framework v.3.1.1 was released
The latest version of the Honey Framework is equipped with new functions that will enhance the strategy creation experience. You can find out more about the Honey Framework on its new website.
8-Bitfinex Reporting Tool has undergone a new look with more capabilities
The Bitfinex Reporting Framework has been redesigned to make it easier for traders to track their trading performance.
9-More UNUS SED LEO benefits delivered
Holders of UNUS SED LEO will enjoy a new discount plan based on the amount calculated across master and sub accounts.
Redesigned 10-Bitfinex website
We revamped our website to give the best user and trading experience and introduced the color-friendly theme on the Bitfinex mobile app.
New listings, futures trading and margin trading leverage
Tether Gold edge listing and trading launch (XAU ₮)
Bitfinex listed Tether Gold (XAU ₮), giving users and the crypto community access to trade the gold-backed stablecoin, even with leverage.
The upper leverage of margin trading increased
Margin trading has been updated for several cryptocurrency pairs
Tezos: higher maximum leverage of 3.3x and lower initial equity of 30%.
Ethereum: higher maximum leverage of 5x and lower initial equity of 20%.
EOS: higher maximum leverage of 5x and lower initial equity of 20%.
Bitcoin: higher maximum leverage of 5x.
XRP: higher maximum leverage of 5x.
Litecoin: 5x higher maximum leverage.
Cosmos: maximum leverage of 2x, initial equity of 50% and a maintenance margin of 20%.
Algorand: 2x maximum leverage, 50% initial equity and 25% maintenance margin
FTX token: maximum leverage of 1.66x, initial equity of 60% and a maintenance margin of 30%.
Launch futures trading for Tether Gold / Tether pair
Providing greater access to the gold pegged digital asset, Tether Gold, futures trading for XAUTF0 / USTF0 is available on Bitfinex Derivatives *.
Tie on Algorand on Bitfinex
Bitfinex users can deposit and withdraw USDt using the Algorand on Bitfinex transport protocol.
New ticket listing mechanism introduced
Bitfinex introduced a new ticket listing form to simplify the ticketing application process and ensure its fairness.
Milestones
Bitfinex Affiliate program distributed fees
More than USD 500K equivalent fees were distributed to contacts.
Bitfinex Lightning Network increased capacity and new channels
Bitfinex LN's capacity is increasing and reaching a new milestone as the 5th largest capacity.
We upgraded our Lightning capability to better serve the needs of our users. We also opened 65 new Lightning channels with our users and added more than 500 BTC, which brought the total Bitfinex Lightning capacity to over 71 BTC.
Crypto hedge fund aboard Bitfinex, Fulgur Alpha
Bitfinex aboard Fulgur Alpha, a $ 280 million crypto hedge fund for its platform, which confirmed Bitfinex as the go-to location for major crypto funds, market makers and arbitrators.
More than $ 2 billion of 24-hour trading volume
When the crypto market crashed, Bitfinex smoothly handled $ 2 billion of trading volume within 24 hours.
Bitfinex institutional degree custody solution launched
Bitfinex launched a post-trade service for institutional investors, in collaboration with Koine.
20M UNUS SED LEO tickets were burned
We hit the first 20M UNUS SED LEO tickets that were burned.
Achievements of the newly launched Bitfinex staking program
Tickets worth US $ 130M are only being stacked on Bitfinex's viewing program within a month of its launch.
Bitfinex Pulse hit 5,000 users
Just within a month of its launch, Bitfinex Pulse has welcomed 5,000 traders.
Shimmer, a proprietary surveillance tool, was launched
Bitfinex launched Shimmer which helps detect potentially inappropriate trading activities as well as combating abusive practices, such as money laundering.
Competitions, giveaways and more consumer benefits
Bitfinex-Chiliz trading competition
Bitfinex threw a trading contest, in collaboration with Chiliz (CHZ), giving consumers opportunities to showcase their trading skills and win the football signed by Juventus players.
Bitfinex threw away the first merchandise donations
We threw in merchandise donations in response to community demands for Bitfinex merchandise.
Bitfinex celebrated Bitcoin Pizza day
We threw out a "Bitcoin Pizza Day, Bitcoin Pizza Yay" competition to celebrate Bitcoin's first commercial transaction.
UNUS SED LEO's first birthday celebration
Bitfinex celebrated the first anniversary of UNUS SED LEO burnday by throwing the "Win and trade as LION" competition.
Santiment 30 days free trial for Bitfinex users
In collaboration with Santiment, Bitfinex users are offered a unique 30-day free trial of Santiment data, where they can get a 360-degree overview of the crypto market and invaluable insights
Educational content and statement
The Lightning Series
The Lightning Series explained everything about the Lightning Network.
Bitfinex supports institutional investors entering the crypto space
Bitfinex CTO Paolo Ardoino spoke of the company's willingness to serve and support institutional investors exploiting the crypto market.
How to get the most out of the Bitfinex platform
All of our features are built with user interest in mind, so we want them to know how to use them.
Bitfinex Reporting Framework Setup
Bitfinex course onwards ODEM.
Various derivatives of the crypto ecosystem
We talked about the various derivatives products in the crypto ecosystem to educate our users.
Bitcoin Halving series
Bitfinex joined the crypto community to celebrate Bitcoin's third halving by announcing an educational series around one of the most anticipated events in the crypto space.
How to get the most out of your Bitfinex Pulse account
The content showed merchants how to get started and get the best out of Bitfinex Pulse.
And we're getting started! It's been a great year so far and as we travel through the second half of the year, we know it's going to get even better.
If you do not have an account with Bitfinex you can start by clicking the button below. Why not try out our Newspaper Trading feature giving you the ability to experience all the powerful features inside a safe and test-proof trading environment.
Here we end the year strong 🍻