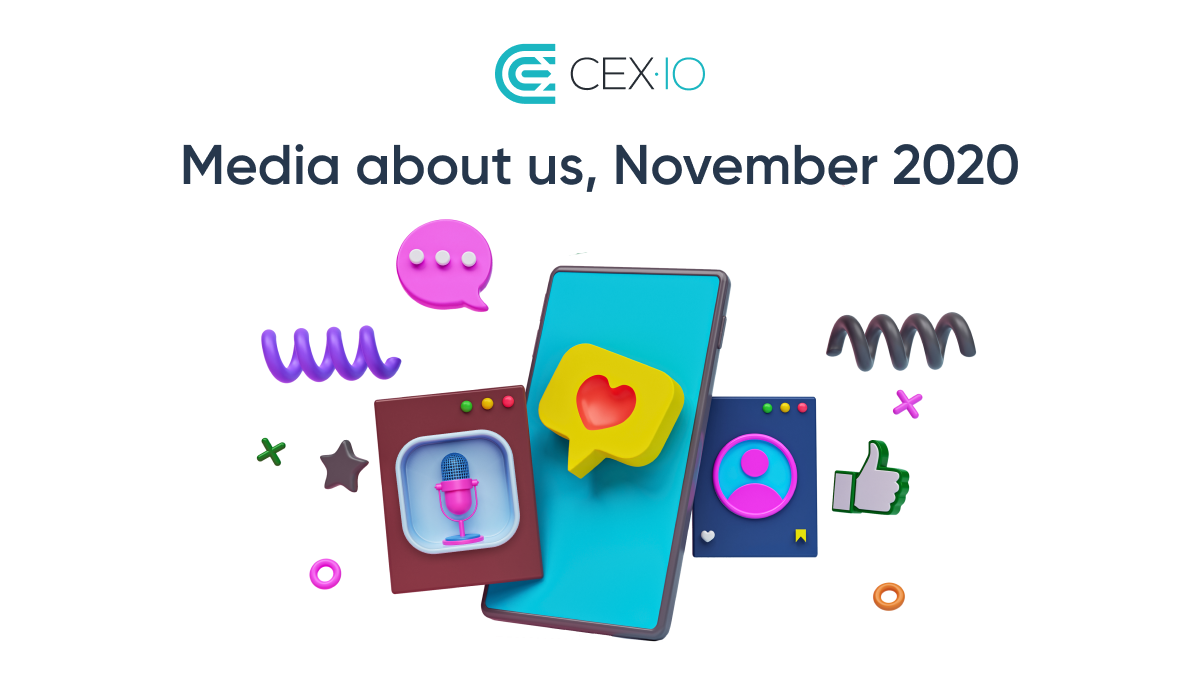 👋 Hello December! Happy to have you! We bet many of you have a certain feeling of relief realizing that 2020 is living its last few weeks. Well, it's been a hell of a year, but haven't we learned and achieved much? For that, we say, "Thank you, 2020". Let's be nice. 😇 But 2020 is still here, as is our regular monthly news summary from CEX.IO experts. In this issue:
CEX.IO news and achievements

Security of funds – too much of it can't

DeFi – what's in it? Looking under the hood

Crypto analytics and traditional markets
and some more trending industry news. Without further ado, let's dive in!
News CEX.IO news and achievements
🔶 You heard that again? CEX.IO turned seven years in November. Seven years of challenges and achievements, seven years of transformation and innovation, seven years of being true to our mission of guiding the open financial system. Read the interview with Oleksandr Lutskevych, founder and CEO of CEX.IO for the perspective on the company's trajectory and outlook.
CEX.IO: 7 Years of Evolving Crypto Space Navigation
🔶 We had one more reason to celebrate in November. CEX.IO Limited has received the Money Lender's License issued by the Gibraltar Financial Services Commission. This license allows CEX.IO customers to immediately borrow money against their cryptocurrency holdings without credit checks through the new CEX.IO LOAN service. Read more about why it's so important in the news below.
🛡 Fund security (it's always real!)
🔶 Scams and crypto attacks are on the rise again as the wider sector breaks out of a bear market for nearly three years. The process is usually as follows: Scammers target websites such as YouTube, Twitter, and Google in search of unsuspecting users and either create fake ads – such as glamorous gifts – or even create a fake website using similar domains to the original – using "0" instead of "o" or an incorrect spelling. Such an attack vector saw millions of XRP stolen from Ledger's fake site, with the attackers using a fake domain name and successfully swallowing funds. Dmytro Volkov, CTO at CEX.IO, said how such hacking attacks against crypto wallets can occur.
1.1m XRP stolen in phishing scam on crypto ledger lookalike wallet
🔶 2020 has been a year filled with threats to crypto owners, not the least of which were fraud and hacking attacks exploiting browser vulnerabilities. When it comes to cryptocurrency theft efforts, criminals are almost always focused on the browser that most users use to access exchanges to buy or sell crypto assets. How can you protect your crypto assets? Dmytro Volkov shares the tips on that.
5 Tips to Protect Your Cryptoassets by Protecting Your Browser
Devolved Finance (DeFi) protocol Pickle Finance was hacked for $ 19.7 million from the stablecoin DAI, as the DeFi industry seems to be turning into a hackers paradise. Dmytro Volkov, chief technology officer at CEX.IO, said what the main disadvantage is in DeFi's protocols that allow such attacks to occur.
🔶 Providing new use cases for digital assets, cryptocurrency lending is more popular than ever. Crypto lending is one of the major driving forces of the rapidly growing DeFi industry, but institutional service providers are also gaining a foothold on the market. Compared to loans backed by general market assets (eg property or gold backed loans), cryptocurrency backed loans have some features that make them unique. Anton Chaschin, commercial director of CEX.IO Loans says more about them.
Crypto Lending has a much higher Demand than first thought
🔶 While Bitcoin's the price was rallying on the price charts, DeFi tickets added TVL at BTC and ETH. While the top 15 performance-based DeFi tickets include Alpha, Yield Farming DAI, EASY, XOR, and HEGIC, tokens like SUSHI, AAVE, and YFI have offered two-digit earnings of over 70%. Anton Chashchin, Commercial Director at CEX.IO Loan, spoke about the drivers behind DeFi's two-digit earnings.
Three reasons why DeFi's performance will soon shadow Bitcoin
🧐 DeFi – what's in it? Looking under the hood
🔶 A recent Consensys report says that the a surge in decentralized exchange volumes (DEX) in Q3 of 2020 is the result of adoption to the automated market maker (AMM). According to the report, DEXs using AMM, a software that creates symbolic trading pairs, now represents 93% of the market. The Defi Consensus report claims that the increase in the use of AMMs is mainly because they are "considered a valuable way to reduce the chance of human error or manipulation and also leave regulators with a clear audit trail." However, many within Defi's community space argue against AMMs despite the embrace of DEXs. Further elaborating on this is Dmytro Volkov, the CTO at CEX.IO.
Decentralized Exchanges Using Automated Market Makers Now represent 93% of the Market
🔶 It's just been 12 years since Satoshi Nakamoto announced nine pager at the end of October 2008 describing what could be a money internet. Called "Bitcoin: a Peer-to-Peer Electronic Money System," the white paper detailed a peer-to-peer version of electronic cash only that would allow online payments to be sent directly from one party the other without using a third party. . Konstantin Anissimov does reiterates Bitcoin's history and shares its views on the prospects of the cryptocurrency pioneer. Read on!
Internet Money Increase
Analytics Crypto market analytics
🔶 The global economic and political events – such as the US presidential election, Covid-19 vaccine rise, economic hardship, closer institutional investor coverage, etc. – have reflected on the cryptocurrency market. Read already traditionally cryptocurrency market analytics by Konstantin Anissimov, the executive director at CEX.IO.
Analytics Traditional market analytics
🔶 Interested in how the traditional market – Pound Sterling, in particular – responds to global political and economic events? Read the expert perspectives and analytics from Konstantin Anissimov, our executive director.
🤓 Will do for now. We hope we've put some useful "food" into your mind with these pieces. There is more to come, of course. But we're looking forward to talking about the topics that interest YOU. Let us know – drop us a line in our Telegram channel. Still not there? Here is the link: 👉 https://t.me/CEX_IO
We would love to see you there. In the meantime, have an amazing few weeks from 2020. Be healthy and see you next year! 🤗
Your CEX.IO Team