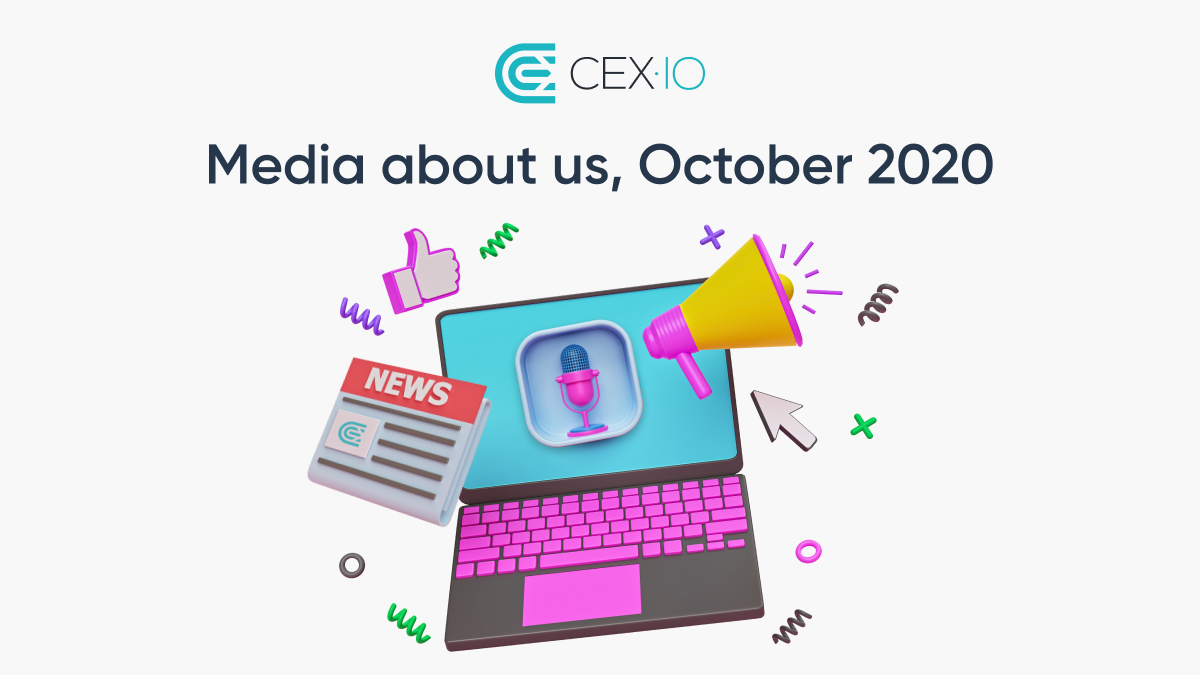 October has been busy with all kinds of events: the major cryptocurrency has proven support levels all the time, Defi gained widespread popularity among various market participants, US Presidential elections took the headlines and affected markets. And it's all been happening in the light of a pandemic and our new lands.
How this news resonated with the audience and of course how CEX.IO experts commented on that, read in our traditional monthly summary of media publications. 🍁 Off we go!
Cryptocurrency and major market players 🏦
🔷 Crypto assets remain some of the most promising instruments traded in 2020. More a more corporate and institutional investors are moving towards crypto as an alternative investment asset. CEX.IO has become one of the first exchanges for institutional clients. What was the impetus behind this strategy and what are our goals in doing so? To better understand this growing space, Konstantin Anissimov, Executive Director of the UK cryptocurrency exchange, talks about CEX.IO's vision and perspective of working with the institutional clients.
CEX.IO's Executive Director Predicts the Future of Crypto Exchanges
🔷 Bitcoin is growing but is not ready to replace the US dollar as a reserve. Central bank digital money will change the way millions of people think about money. DeFi could be a game changer as an investment opportunity. The cryptocurrency market is evolving with the speed of light offering new opportunities and solutions. We see big industry players entering this market. What should we expect from the emerging industry? Is Bitcoin still the center for the future of cryptocurrency or dominance of the first ever crypto threatened? Is cryptocurrency becoming mainstream for personal finance? There are many crypto exchanges, what makes CEX.IO different? Konstantin Anissimov is Executive Director of the international cryptocurrency exchange, CEX.IO, answers these questions and more.
The state of the crypto market: a Q&A with executive director of CEX.IO
Safety as top priority🛡
🔷 Apparently everyone following the events in the crypto industry has heard the news of KuCoin's recent hack. More than $ 150 million in funds were compromised in a recent security breach of the Asian cryptocurrency exchange when one or more hackers obtained secret keys to the exchange's hot wallets.
Even with some measures taken to minimize the risks, cryptocurrency wallets remain vulnerable to hacking. The criminals try out various complex schemes to hide the trace – making complex transactions as fast as possible, making tracking and freezing the funds more difficult. The the money laundering process is particularly interesting and unusual in the crypto world compared to the traditional world of finance. What methods do criminals use to launder crypto assets after theft? What measures are being put in place to combat money laundering in cryptocurrencies? Dmytro Volkov, CTO at CEX.IO shares his expert thoughts.
Here's How Crypto Criminals Attempt to Launder Funds, and What Is Done To Stop Them
Market analytics 🎢
🔷 Like most assets in various global financial markets, the leading cryptocurrency continues to move in light of the uncertainties generated by the ongoing pandemic and the upcoming US presidential elections. Bitcoin gave investors access to Q3 earnings of more than 18% even with the significant losses that came in September. Although the so-called "Medi Effect" is quite significant, it seems that nothing can stop BTC from fulfilling its potential upside down. According to Konstantin Anissimov, Executive Director of CEX.IO, despite the 18% return generated by Bitcoin for investors, things remain uncertain about the future. Ream more in market analytics.
🔷 Bitcoin has enjoyed an impressive rally in October and headlines made a surge to the new 2020 highlights. But despite those significant gains posted in such a short time, multiple technical indices suggest a correction may be coming, possibly ending this latest Bitcoin rally.
The growing interest from institutional investors is a positive development for the crypto industry as a whole. While governments and central banks around the world continue to grapple with crypto, increasing demand for this asset class could force global financial watchdogs to dampen regulations and accept this growing trend. Experts believe that due to the state of the global economy, more companies will rethink the composition of their portfolio and embrace Bitcoin. Read more about the Bitcoin is moving through October and the factors that pushed it in the following extracts:
If you haven't been monitoring all the events carefully and are moving on the cryptomarket – we've got your attention. Save this round of news and recall what October was like. In the meantime, we're taking a step forward to catch up with more hot news and share them with you!
Do you have a specific topic that you are interested in and want us to cover? Tell us! Join our Telegram community where all the hot discussions and lively conversations are: 👉 https://t.me/CEX_IO.
Take care and see you next month! 🤗