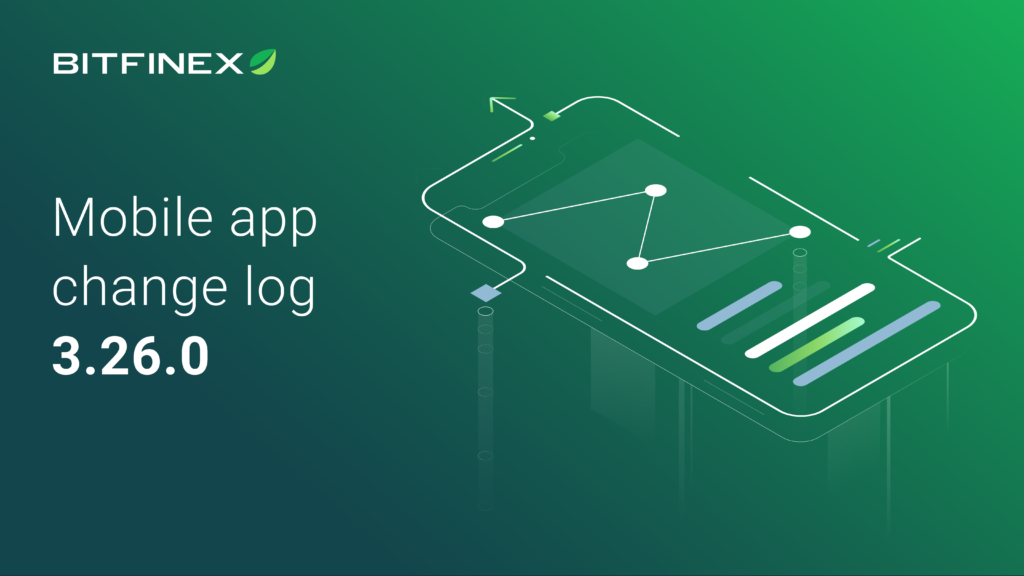 Mobile App Change Log 3.26.0

22 January 2020

in Change Log

Recent updates and optimizations to Bitfinex mobile app

We are proud to present Version 3.26.0 from the Bitfinex mobile app.

The latest update to the Bitfinex mobile app includes a number of enhancements and solutions to improve the mobile trading experience for our customers.

Download the latest version of Bitfinex mobile app below:

Now you can also download the Android Application Pack (APK) at: https: //github.com/bitfinexcom/mobile-pub/releases/tag/v3.26.0
---
Features
The stacked banners have been revised to one rotating banner at the top of the Trading page
Users can automatically complete the Funding Form by taking advantage of the specific row in each asset's Financing Book in the Financing tab – a feature that already exists in the Trading and Derivatives * tabs.
Improvements
Reduce time to display processing mode once a One-Time PIN (OTP) code has been entered for Bitrefill purchases
The Trading Book panel was renamed the Order Book on the page of each trading pair under the Trading and Derivatives tabs
When a user taps on a particular row in the Order Book panel with more than one order, the page will automatically scroll to the Orders panel
Add notice for 'write orders' permission to Cancel All Orders under the Orders panel.
The Modify Order button is disabled when the desired permissions are not available
When a user selects a specific Flash Return Rate (FRR) option in the Funding Form, the other FFR options are disabled
Users are not allowed to select a blank source wallet when the available amount is zero
Updated Reports icon and add Language icon on Account page
An "Internet access" warning is displayed on the loading page when there is no internet connection
Add slide-right animation for page transfer
Bug fixes
Fixed issue of "Unknown Conversion Error" notice displayed when converting funds to and from derivatives wallet
XRP and IOTA deposits are temporarily disabled until a dedicated user interface is ready (users can still deposit these cryptocurrencies on our web platform)
Fixed label changes between Rate & Per Day and Delta FFR% Offset by editing the value of that field in the Funding Form
Fixed issue of users receiving push notifications even after logging out of the app
Fixed issue of charts instead of scrolling sideways smoothly
Text is now displayed in the About section of the Santiment page of each trading pair
---
* Derivatives trading products are provided by iFinex Financial Technologies Limited
The active user base has suggested the above changes to us.
Feedback from our user base is extremely valuable to us. Share your user experience and help us continually optimize our mobile app.
To share your feedback, join the Bitfinex Telegram Channel.