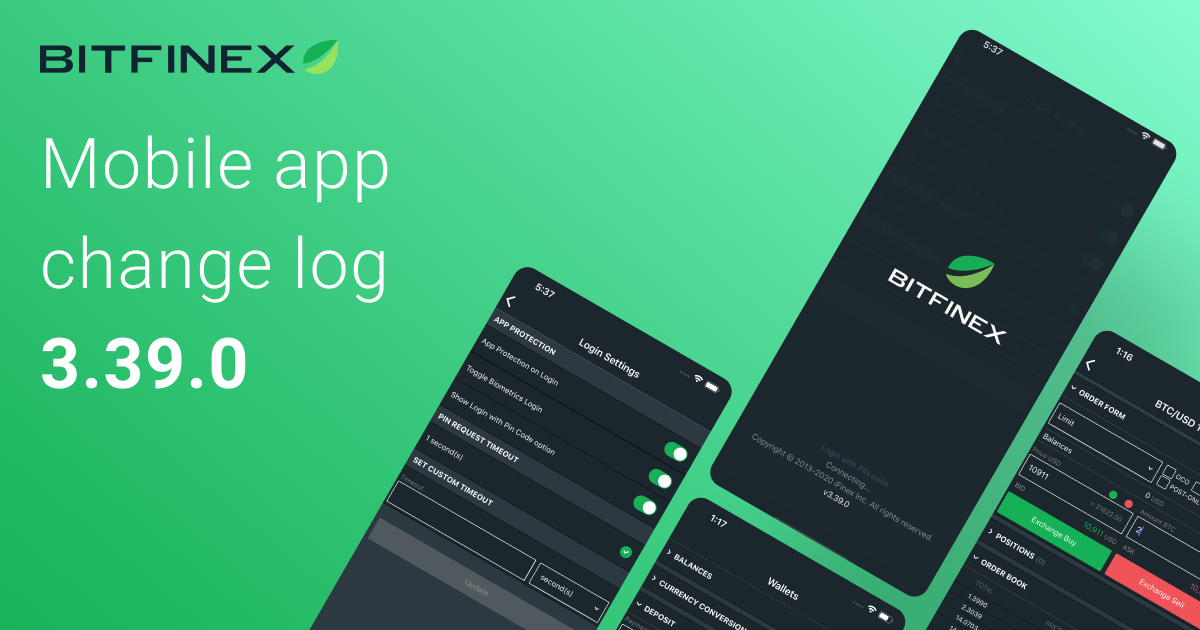 Mobile App Change Log 3.39.0

07 August 2020

in Change Log

Recent updates and optimizations to Bitfinex mobile app

We are proud to present Version 3.39.0 from the Bitfinex mobile app.

The latest update to the Bitfinex mobile app includes several updates to trade on * Bitfinex Derivatives.

Download the latest version of Bitfinex mobile app below:

You can also download the Android Application Pack (APK).
---
Features
Ampleforth Icon (AMPLF0) shown in Derivatives
Add a login with pin code settings
Improvements
The default language for the Bitfinex Pulse feed will be the user's chosen language
Upload for Bitfinex Pulse
USDt and USTF0 can now be searched in the Reports and Movements panels in the Wallets tab
Updated translation for English and Russian, along with traditional and simplified Chinese
Bug fixes
Fixed issue of forcing some users to re-login due to removal of API or secret keys
Fixed unsubscribe data flow issue to save network bandwidth
Volume value aligned in the Derivatives tab of the web version
Derivatives funding cap is now dynamic
* The derivatives platform is provided by iFinex Financial Technologies Limited. References to Bitfinex Derivatives in this post are references to iFinex Financial Technologies Limited.
---
The active user base has suggested the above changes to us.
Feedback from our customers is invaluable to us. Share your user experience and help us continually optimize Bitfinex's mobile app.
To share your feedback, please complete the Bitfinex mobile user app survey or join the Bitfinex Telegram Channel.